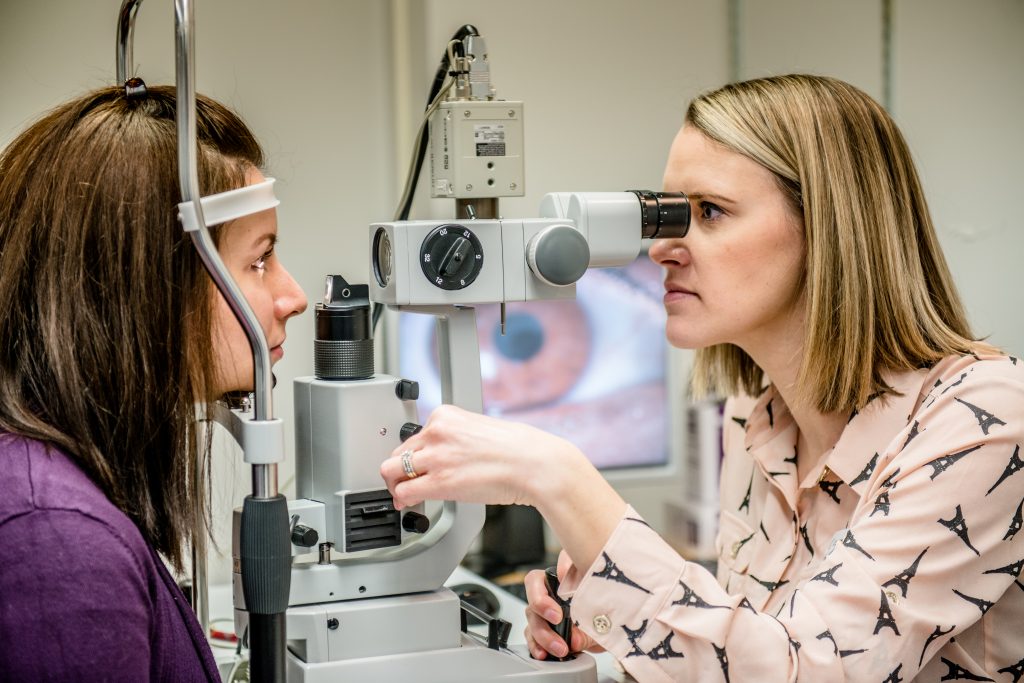 Thank you for your interest in participating in our research! With over 30 years of experience, CORE is one of the premier contact lens and dry eye research centres in the world, led by a multidisciplinary team of research scientists and supported by a community of volunteer research participants.
Participation in our research will feed directly into new or improved product development and treatments in eye and vision care and contribute to our understanding of eye health. Our past research has helped develop many of the contact lenses, dry eye therapies and related products relied upon by consumers around the world.
Join our community of over 6,000 volunteer research participants who are passionate about helping others and advancing ocular science!
Volunteers are critical for our success! We recruit participants for a wide variety of eye and contact lens studies including:
Dry eye
Myopia progression control (children's studies)
Soft contact lenses
Specialty contact lenses (i.e. scleral, toric, multifocal)
Spectacles
Tear collection
Participants receive $20 per hour for time spent attending research visits. In most studies, products will be provided throughout the study's duration; in other studies, participants will be asked to continue using their own products. There will be no charge for any products or examinations conducted as part of the research study.
I am interested in participating in a study. What are the next steps?
STEP 1: Create a Participant Profile
To be eligible for any research studies at CORE, potential participants must be registered in our volunteer database. When creating your profile, you will need to provide us with your contact information and complete a short series of questions about your eyes (i.e. do you wear contact lenses, rx, etc.). All information collected is confidential. 
STEP 2: We'll contact you if you meet the criteria for a study based on your profile
After reviewing your information, we'll match your profile with any prospective studies and send you specific study recommendations, along with full details of what's involved, for your consideration and review. If you have any questions or decide you are interested in participating, please call our scheduling team to have your questions answered or book a screening visit. You will be provided with all relevant information prior to study enrolment and are under no obligation to participate. 
STEP 3:  You'll receive your first study email reminder
After we have scheduled your first visit (also known as a screening visit), we will send you a confirmation email with detailed information about the study including research objectives, time commitment and what you can expect during the study visits.
STEP 4: Attend the screening visit
Attend your first study 'screening' visit at CORE's facilities, located on the 3rd floor of the School of Optometry and Vision Science at the University of Waterloo. The screening visit is designed to confirm your eligibility for the study by asking you questions and assessing your eyes and vision. Before any measurements are taken, a member of the study team will provide you with the study specific Information Consent Letter (ICL) and answer any questions you have. The ICL explains the study in detail, including the time commitment, products/procedures, payment and the risks of any unwanted side effects. After your screening visit is complete, you will be asked to schedule any remaining study visits.
STEP 5: Attend the remaining study visits
Our studies vary in time commitment. We aim to work around your schedule as much as possible when booking study visits. Participants will receive remuneration (payment) by cheque upon study completion, typically at the final study visit.  *Note: Larger remuneration sums must be processed by the University of Waterloo's finance department and a cheque will be sent by mail. 
Safety: Your safety is our number one priority. All products used in our research have been approved for use by Health Canada. Additionally, all studies conducted at CORE have been reviewed and received ethics clearance through a University of Waterloo Research Ethics Board. We provide 24/7 emergency on-call support in case you experience worrisome symptoms while you are in a study.
I have more questions. Who can I reach out to?
Check out our F.A.Q. page for a list of common questions and answers, send us an email COREstudies@uwaterloo.ca, or phone 519-888-4742.