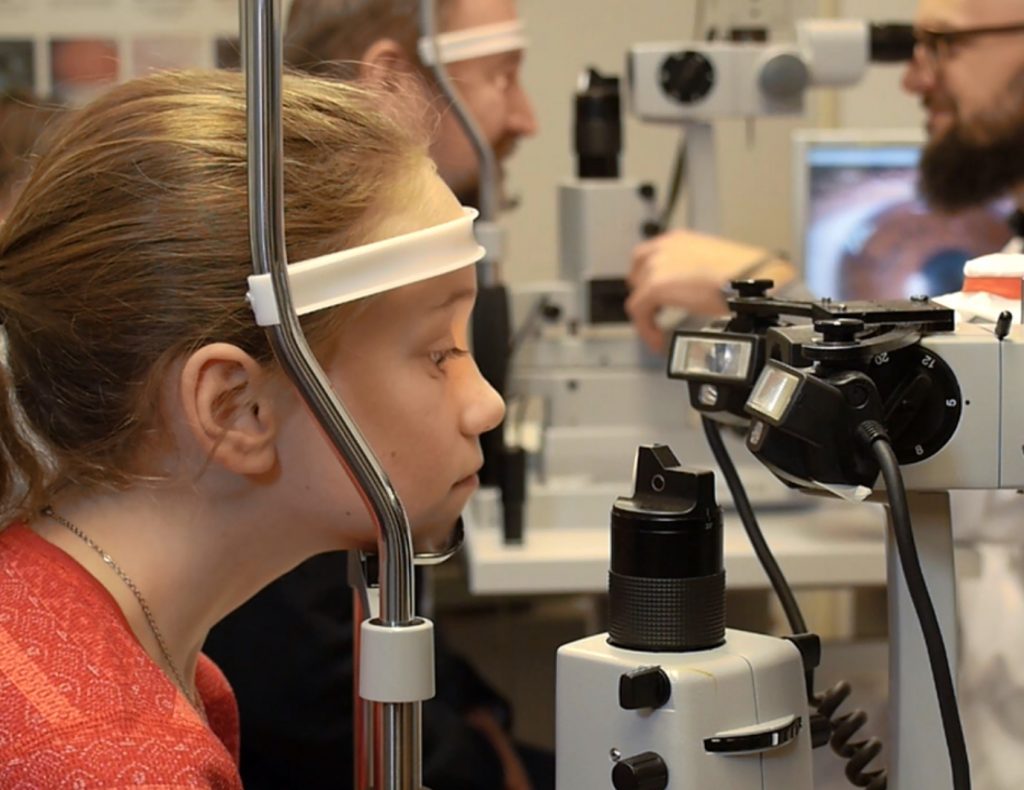 CORE has created this page to help parents understand what myopia is and why myopia control is such an important research area.
Myopia, or nearsightedness, is one of the most common eye conditions, affecting millions of children and adults worldwide. It receives significant attention from the eye health community, because incidence rates are climbing among children at a startling pace. Myopia is now being diagnosed at younger ages and because myopia increases throughout childhood and into young adulthood, the typical final myopia prescription is now higher than ever. Higher myopia prescriptions are associated with increased risk of serious sight threatening eye conditions later in life such as glaucoma, cataracts, and retinal damage. The prevalence of myopia and the shift toward onset at an earlier age highlights the growing need to create strategies to slow down its progression – this slowing is referred to as myopia control.
CORE's journey in myopia control research began nearly 10 years ago through the Chrome children's study. This was CORE's first on-site children's myopia control study and its success set the groundwork for many other studies in the years to follow: the Copper, Falcon, Orillia, Audi, Triangle, Keyboard, Walnut, Cypress, Cherry and Buttercup studies were supported by over 200 local children. CORE has received worldwide recognition for our research efforts, which have helped evaluate and develop myopia control treatments such as specialised eyeglasses and contact lenses, and prescription eye drops, all developed to help control myopia progression in children.
As a direct result from CORE's research and other research around the world, myopia control treatments are now approved by Health Canada and are commercially available through your regular optometrist of eye care provider. These include special lenses in eyeglasses, prescription eye drops, specially designed hard contact lenses worn overnight (called orthokeratology) and specially designed soft contact lenses.
CORE has created this page to help parents understand what myopia is and answer many common questions parents have when deciding if participation in myopia control research is right for their family.
---
6 Common Questions on Myopia and Myopia Control Research Answered:
---
1. What is myopia?
Myopia or nearsightedness is a very common vision condition that makes objects in the distance appear blurry. Children who have myopia may not even realize that their distance vision is not clear. The common signs of myopia in children include: squinting to see things far away, eyestrain or eye fatigue, difficulty seeing the blackboard/whiteboard, and wanting to move closer to the TV. An optometrist will be able to determine whether a child is nearsighted using a number of different methods.
2. What are the differences between being near-sighted and far-sighted? (My child needs glasses to see but I'm not sure if he/she is nearsighted or farsighted.)
A child who is nearsighted may have difficulty seeing things far away when they are not wearing their glasses, but has no difficulty reading things up close; nearsighted meaning they have good near sight. A child who has farsightedness may have difficulty reading small print up close, it is also possible for a child to be farsighted and see clear at all distances but feel eyestrain with extended periods of near focusing, for example while reading. A printed prescription for a child who is myopic has a negative sign in front of the first number for each eye e.g. -2.00. If you are unsure whether your child would qualify for myopia research, we would be happy to take a look at a prescription provided by your optometrist to confirm.
3. If my child has astigmatism, can they still be eligible for a study?
Astigmatism is a common vision condition where an eye needs more than one power in the glasses to see perfectly clear. Depending on the amount of astigmatism in the eye prescription, your child may still be able to participate. Please obtain a copy of your child's most recent eye prescription, and our recruitment staff can help determine whether they are eligible for a study.
4. I'm not sure my child can wear contacts. Are they too young to wear contact lenses?
Our clinical researchers are very experienced in training children on contact lens care and have had success with children wearing contact lenses as young as 7 years of age. For any study that involves new contact lens fits for children, we will book ample time to train the child on how to handle contact lenses (how to put them in and take them out) and how to wear them successfully. Parents will be involved in the instruction so that they can assist at home if necessary. Contact lenses will only be dispensed to take home after we confirm the child is competent with removing the contact lenses and can wear them responsibly. Frequent follow up will take place to check that lenses continue to feel comfortable and the child is able to see well.
5. Why should I be interested in myopia control? My child sees just fine with glasses.
Traditional glasses and contact lenses will correct myopia and allow a child to see clearly, however a child's myopia may continue to worsen as they grow older and new glasses with stronger prescriptions may be needed. The rate of progression of myopia varies from one child to the next and may be dependent on their family history, age of onset of their myopia, and how they use their eyes day to day. Myopia control refers to the slowing down of the progression of myopia. If the progression of myopia is slowed down, your child will have a lower prescription than they might otherwise have had. The benefits of lower prescriptions include better vision without correction, better outcomes for refractive surgery later on and also reduced risk of eye health issues related to myopia that can permanently reduce vision.
6. How long are the research studies and what do we have to do if we get involved?
Deciding whether your family is a good fit for a research study can be a big decision. Some studies are expected to last for several years to see how your child's prescription changes over that time. The research may involve wearing special eyeglasses or contact lenses or using eyedrops. We provide some details in our initial information pack that we send to you when you contact us. This will tell you about the products we are studying, the time frame of the study and the frequency of the visits you will need to make to our research centre. If you are still interested, we will send you a much more detailed description of the study, called an Information and Consent document. Our research team will answer any questions you may have after reading this document so that you can be comfortable in your decision to participate. At no point are you and your child under any obligation to participate and if you do participate, you may withdraw from the study at any time.
---
Useful Resources
Ever wonder what the world would look like through your child's eyes? CooperVision's team created the myopia simulator to illustrate how a child's uncorrected vision may change as their myopia progressive over time: Vision Simulator
Calculate your child's risk of myopia developing or worsening with this free online tool: My Kids Vision
Educational Handouts:
CORE in the news
Contact us
At CORE, children aged from 6 years old are participating in research involving myopia control and we have new studies starting up frequently. To find out more about the studies that are actively recruiting for participants visit our current studies page for more information or contact our recruitment team directly at 519 888 4742 or COREstudies@uwaterloo.ca