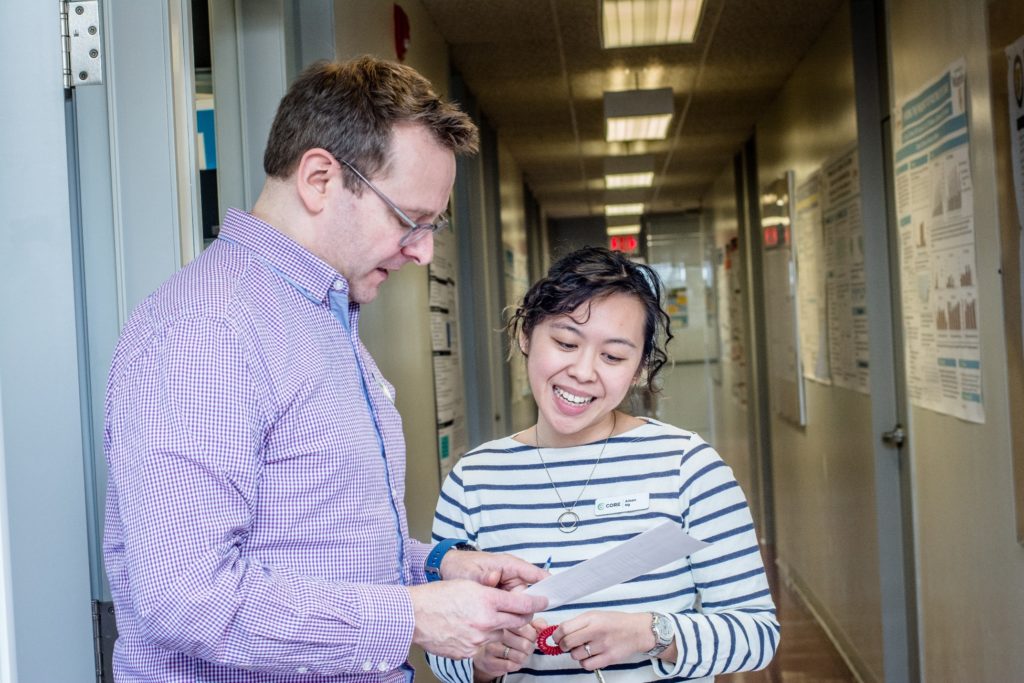 What is a research study?
A research study is a process designed to test a scientific question. At CORE, our research studies look at a variety of questions such as: can a certain contact lens improve wearer comfort or experience, what strategies can be used to slow the progression of myopia in children, and what treatments improve dry eye disease. Most of the measurements we take during our research studies use the same or similar equipment to those you are familiar with from an eye examination at your optometrist's office.
Most of our studies involve a series of visits to our office over a planned schedule. While a few studies are just a single visit, others span several months or years. The study visit schedule, the products/procedures involved, the risk of any side effects and the reimbursement for your time are all communicated to you at the beginning so that you can decide if you want to participate. 
What measures or protocols are put into place for a study to help maintain my safety?
Your safety is our number one priority at CORE. All the products we use in our studies have been approved/authorized for use by Health Canada. All our studies have been reviewed thoroughly and cleared to go ahead by a University of Waterloo Research Ethics Board. As part of their role, this Board ensures that the document we provide to you to describe the study also explains the risks of any unwanted side effects accurately and clearly. We aim to list all possible side effects so that you will understand the risks before you agree to participate in the study. Potential side effects vary with each study and can be minimal, such as your eyes feeling a little dry after some measurements, or more serious, like an allergic response or an eye infection. Our clinical research team is made up of trained eye care professionals who will be happy to discuss the risk of side effects with you, and they are on-call 24/7 should you have any concerns while you are participating in a study.
What information will I receive prior to the study?
You will receive a written document called an Information and Consent Letter (ICL) which describes all aspects of the study. At your first appointment, you will be given time to read this information before you decide whether you would like to participate. At this time, a member of the study team will be on hand to answer any questions you have and explain the study details. The information in this document includes, among other things:
detailed information about the goals of the study
a description of all study products and procedures
an explanation of potential side-effects
24/7 contact information and instructions in the event of any concerns you have during the study
the schedule of the study appointments, along with any appointment-specific instructions
You will be given a copy of this document to keep.
Who has reviewed the study?
All research studies conducted at CORE have been reviewed and given ethics clearance by a University of Waterloo Research Ethics Board.
Additionally, all the products we use in our studies have been approved/authorized for use by Health Canada.
Who usually funds the research study?
Research studies are funded by a variety of sources including, but not limited to, contact lens and contact lens care product manufacturers, pharmaceutical companies, medical device manufacturers and government grants. CORE has a global reputation for being a research establishment that is independent of commercial pressures, therefore we conduct research for most of the related industry companies.
Why do people volunteer for research studies?
People volunteer to participate in research studies for many reasons! Some enjoy trying new products like a different brand or type of contact lens such as multi-focal contact lenses.  Others seek out solutions to issues they are experiencing, like dry eye. Some simply find it rewarding to contribute to the advancement of medical technology, treatment and science.   
On your website I saw a research study I am interested in participating in. What are the next steps?
The first step is to create your own unique participant profile, which you can do by clicking here. Once you have created your profile, we will review your information to determine your study match. We will then send you an email with the specific study details and advise the next steps. Visit our Participate in Research page for a more detailed step-by-step guide on how you can participate in one of our research studies.
Why do I need to create a participant profile before I am considered for a study?
The profile provides us with basic information like your age, whether you wear contact lenses, your latest ocular prescription, etc. The profile also provides us with your consent to contact you and use this information to match you to our study needs, because some have age and prescription limitations.
Do I need to know my most recent eye glass/contact lens prescription to complete my participant profile?
Ideally, we would like to know your latest prescription to be sure we are matching you correctly to studies with specific requirements.
If you do not have this information when completing your participant profile, don't worry! You can leave that section blank and then update your profile here at a later date when you have it.  
What if I decide to change my mind about participating? Will I have to finish the study?
No. It is recognized that you are freely volunteering and if you decide at any point to leave the study for any reason, you are under no obligation to complete your study visits. Where possible, we try to schedule a short study exit visit to conduct some final assessments and complete some paperwork, even if you are unable to complete the study schedule.
When will I receive payment for my participation in a research study?
In most cases, you will receive payment at the end of your final study visit. For multi-year studies, payment may be provided annually.
Are there any expenses that I am responsible for?
No. CORE will provide participants with all the study materials necessary to complete the study. There are no charges for the study-specific tests we conduct.
Do I have to supply my own contact lenses?
Some CORE studies require you to continue wearing your current contact lenses for the duration of the study. Other studies may require you to be fitted with new contact lenses, and in these cases, the lenses will always be provided by CORE.
Why do I have to attend a strict schedule for the study I have qualified for?
The assessments in research studies are designed to be completed in a specific time period. This not only standardizes the experience across different people participating, but it also allows us to test products across their individual lifespan or the recognized treatment period. Most studies have some flexibility built into the visit schedule in order to accommodate people's schedules.
Is parking available?
Yes! Research participants are permitted to park in Lot O-Visitor which is the Clinic and Visitor Parking beside the School of Optometry & Vision Science entrance. We will provide a parking voucher for you to exit free of charge.